Jumper Fee: $20. GPN Jumper Fee: $10.
* Additional guests, food, and party add-ons can be added at checkout
Questions? Check out FAQ here
Birthday Party
Available any day and any time when the park is open,
Looking for the best place to host a kid's birthday party in Salisbury, MD area? Take your child's birthday party experience to new heights with the birthday party experts at Altitude in Delmar, MD! It's the perfect place for stress-free, indoor birthday parties for boys, girls, kids, and teens – anyone can have a blast here! More than just a trampoline park, Altitude is a unique indoor adventure park with something for everyone. We've got classic trampolines, climbing walls, dodgeball court, indoor playground, a Ninja Warrior Course, and more, so bring your birthday boy or girl and all their friends to bounce, climb, dodge and play the day away!

Let our personal party hosts take the stress of party planning off your hands. From setup to cleanup, and everything in between, we'll handle everything so your child will have the ultimate birthday and you'll get to sit back and relax. Or better yet, join in on the fun and get jumping!
2 hours of jump and party time

Reserve a Private Room, Open Air Room, or Upper Deck (select when making the reservation)

A personal party host

Full access to the entire park

One private game of dodgeball, megaplay, OR ninja warrior course

Pizza
Water for each jumper

Pitchers of Soda, Lemonade or Fruit Punch

Plates, napkins, tablecloths, and utensils

Party setup and cleanup

Free Altitude Safety Socks for each paid party guests

One Prize Wheel spin for a birthday child

Each party package is customizable, allowing you to add guests, reserve private rooms, etc. To save time, we recommend asking your guests to fill out their online waiver before they come to the party. This will ensure that they get the most out of their time at Altitude Delmar.
* Please note that we happily welcome cakes and cupcakes to celebrate your momentous occasion. All birthday parties require advanced reservations and a non-refundable deposit.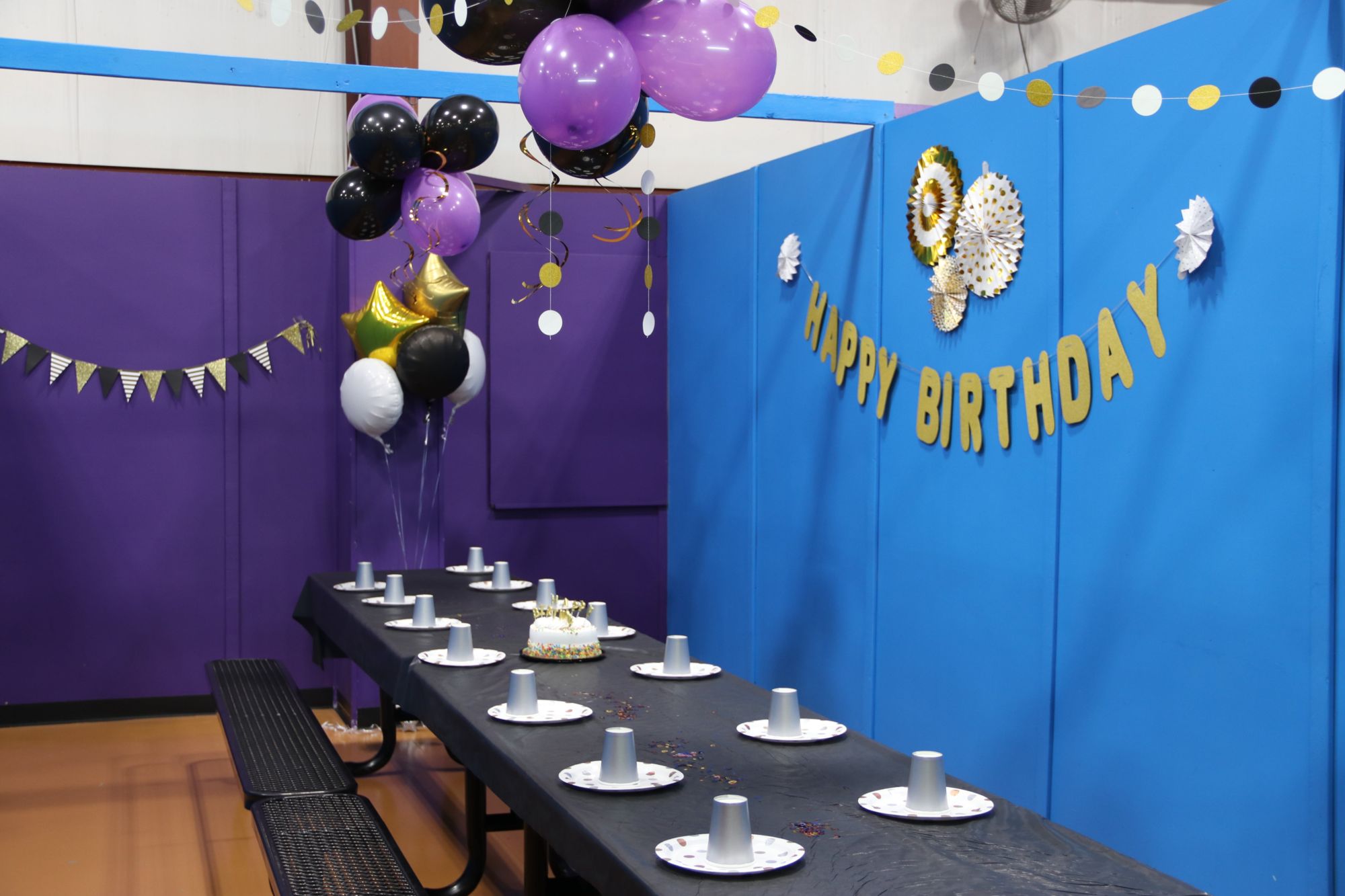 Open Party Room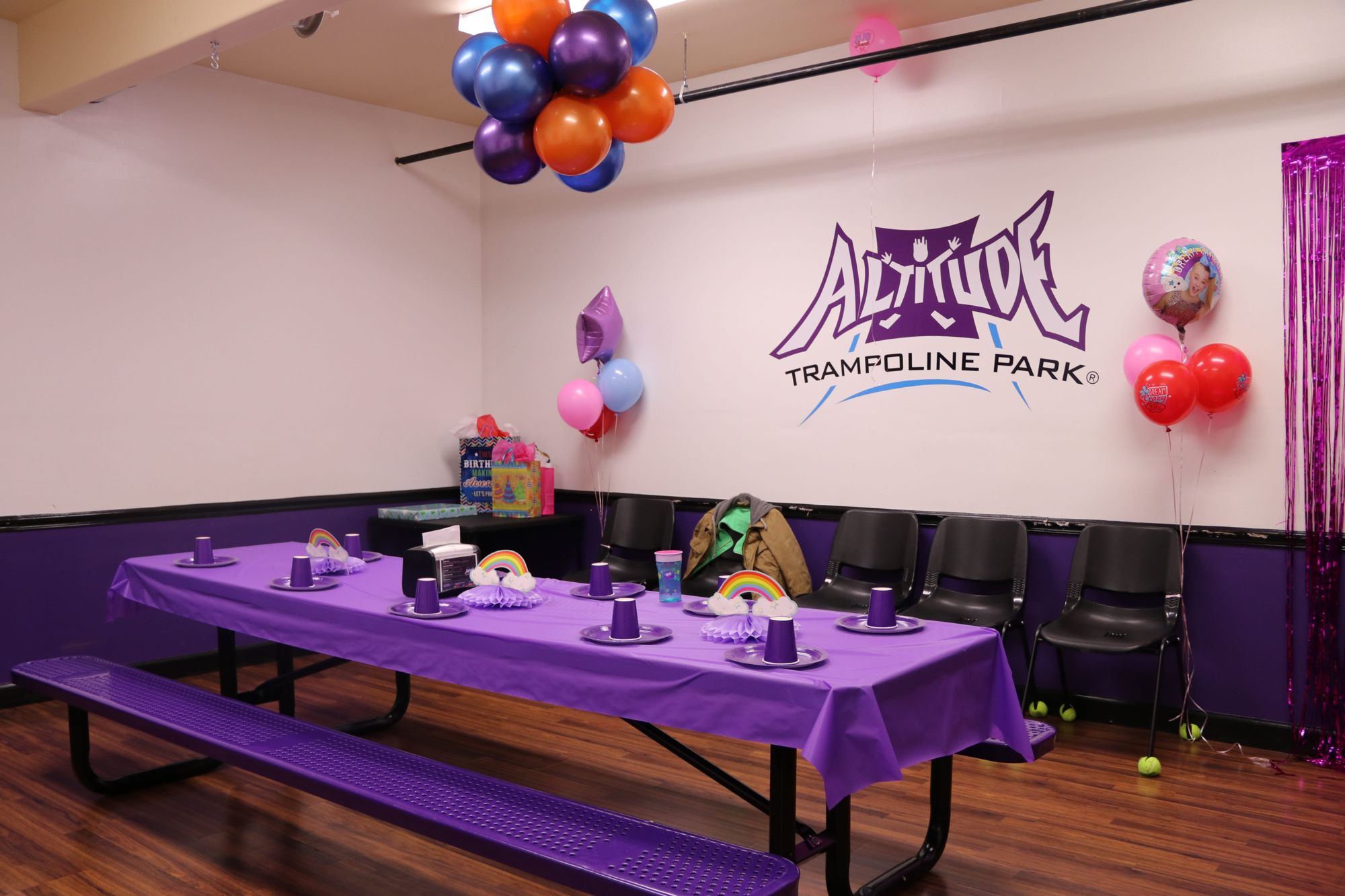 Private Party Room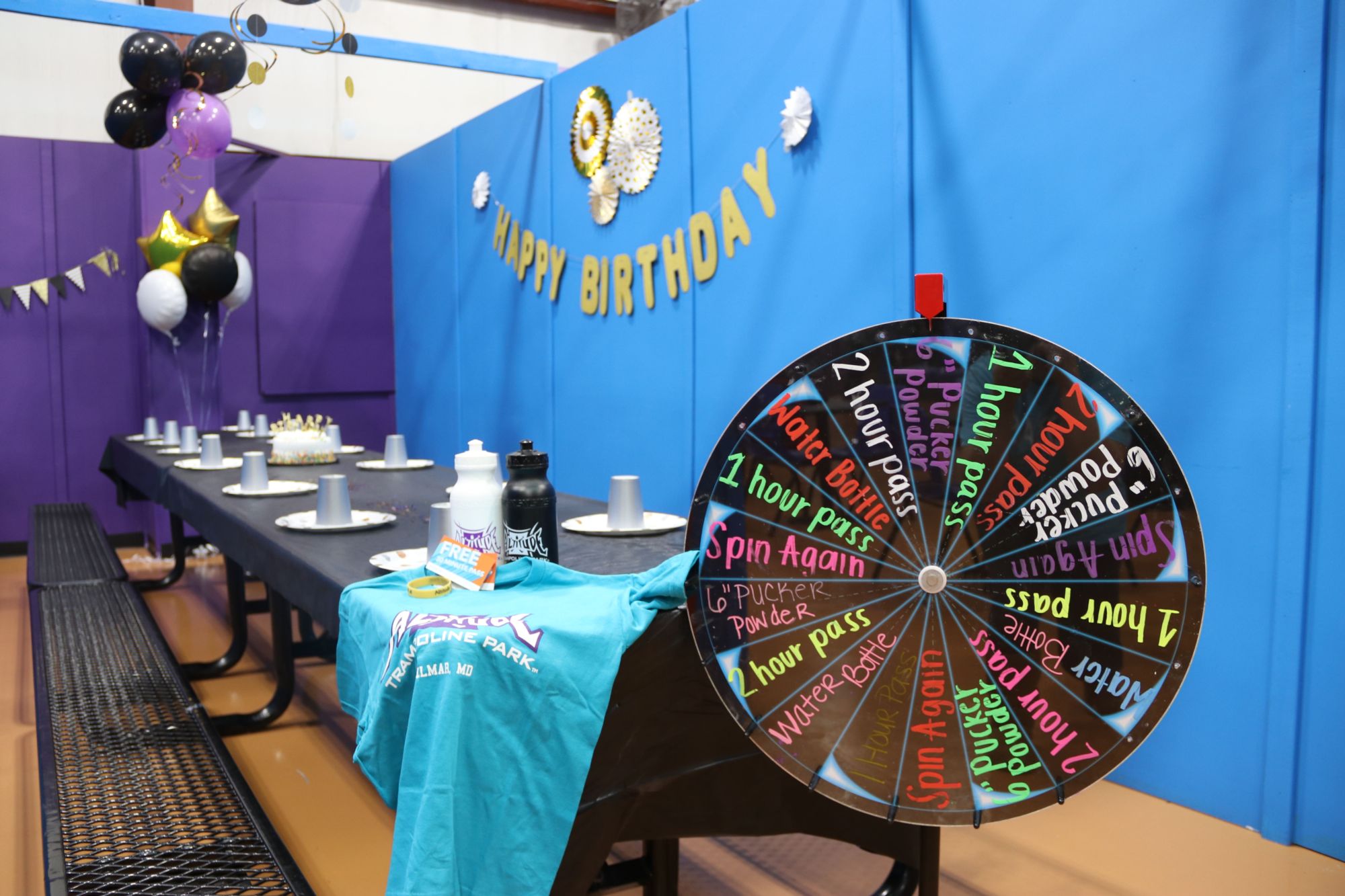 Prize Wheel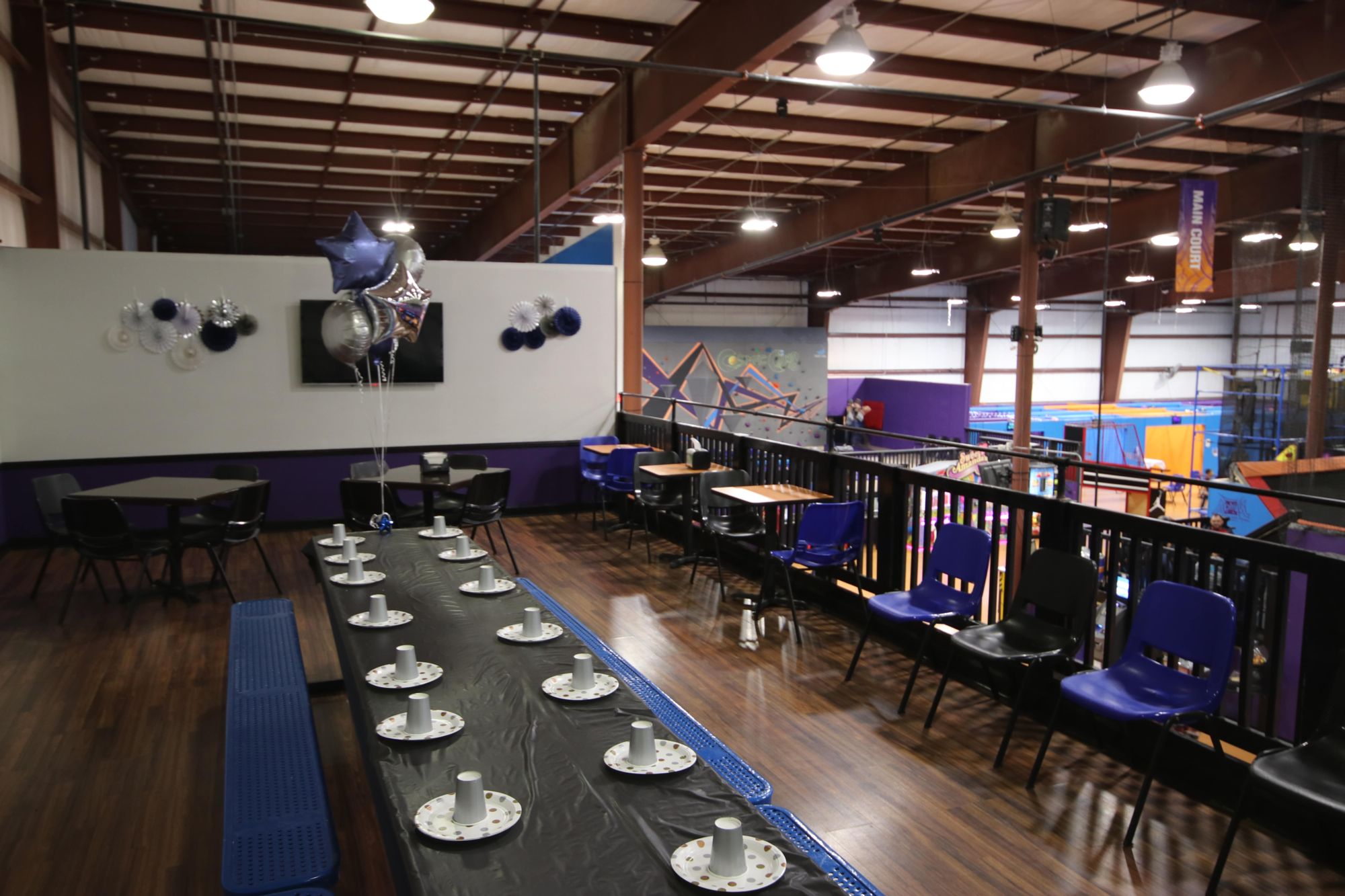 Upper Deck
The results are in, everyone loves birthday party at Altitude Trampoline Park! But the thing is, birthday parties aren't just for kids, we celebrate birthday of all ages! Schedule your birthday party with Altitude and let our party-hosts do all the work - from organization setup and cleanup, parents should feel like they are able to sit backend enjoy the party as much as the kids. Even better, they should get out and jump!
BIRTHDAY PARTY FAQS
CAN WE BRING IN OUR OWN FOOD?

We happily welcome cakes and cupcakes to celebrate your momentous occasion! No other outside food and beverages are allowed. Additional pizza and chicken strips can be purchased at the park together with coffee, ICEE, ice cream, cheese nachos, pretzels, mini donuts, and other snacks.

ARE DEPOSITS MANDATORY?

Yes, and the non-refundable deposit must be paid at the time of the booking.

ARE WAIVERS REQUIRED?

Yes, one can fill out a waiver on our website before the event (recommended). If not, one can fill out a waiver in the park but may have to wait in line.

ARE WE ALLOWED TO BRING IN OUR OWN DECORATIONS?

Absolutely! If you'd like our Party Hosts to set up the decorations, please bring them the day before your event along with any setup instructions. If you'd like to set up your decorations on the day of the party, please be aware that your table will NOT be ready for decoration until your reserved party time. Some restricitons may apply such as no piñatas, please confirm when booking.

HOW EARLY CAN WE ARRIVE?

We recommend arriving 15 minutes before the event starts in order to check-in the guests and begin preparing for your event.

WHEN WILL OUR FOOD ARRIVE?

Typically, food will arrive during the last hour of your event. Your party will have at least 30 minutes for food and cake in the party room before the event end time.

CAN I ORDER EXTRA FOOD THE DAY OF?

All food orders must be confirmed at least 72 hours prior to the event.

WHAT COMES WITH A PARTY?

All parties will receive 2 hours of jump and party time, socks for every jumper, personal party host, pizza and soda, plates, napkins, utensils, tablecloths, set up, clean up, and a Prize Wheel spin for a birthday child.
DO YOU OFFER GOODY BAGS?

Yes! We have assorted candy bags from CoCo's FunHouse available for $2

WHAT HAPPENS IF NOT EVERYONE SHOWS UP FOR MY PARTY?

We allow others to substitute in the spots of those that did not show up.

ARE THE PARENTS OF MY GUESTS FREE OR MUST THEY CHECK IN TO MY PARTY?

Parents are free to come and enjoy the party, however, they are only free to jump if the child is 42 inches or shorter. If the child is taller then 42 inches, we would first get permission from the Birthday Parent to add them to their guest list. If the Birthday Parent does not wish to add parents to their guest list, jumping parents are responsible for purchasing their own jump time at our regular prices

I'M RUNNING LATE, DO I GET EXTRA TIME?

Unfortunately, we have a tight schedule and are not responsible for holding a table past your scheduled party time.

IS MY DEPOSIT REFUNDABLE?

No. The deposit is non-refundable.

CAN WE UPGRADE/DOWNGRADE OUR PARTY THE DAY OF?

Any party can be upgraded to include more jumpers. Please, keep in mind that when upgrading a party on the day of, we cannot guarantee additional table space or a different party area for your party.
Birthday parties can NOT be downgraded.
---
EARLY BIRD Birthday Party
Available Sunday through Friday from 10:30 AM - 12:30 PM and Saturday from 9:30 AM - 11:30 AM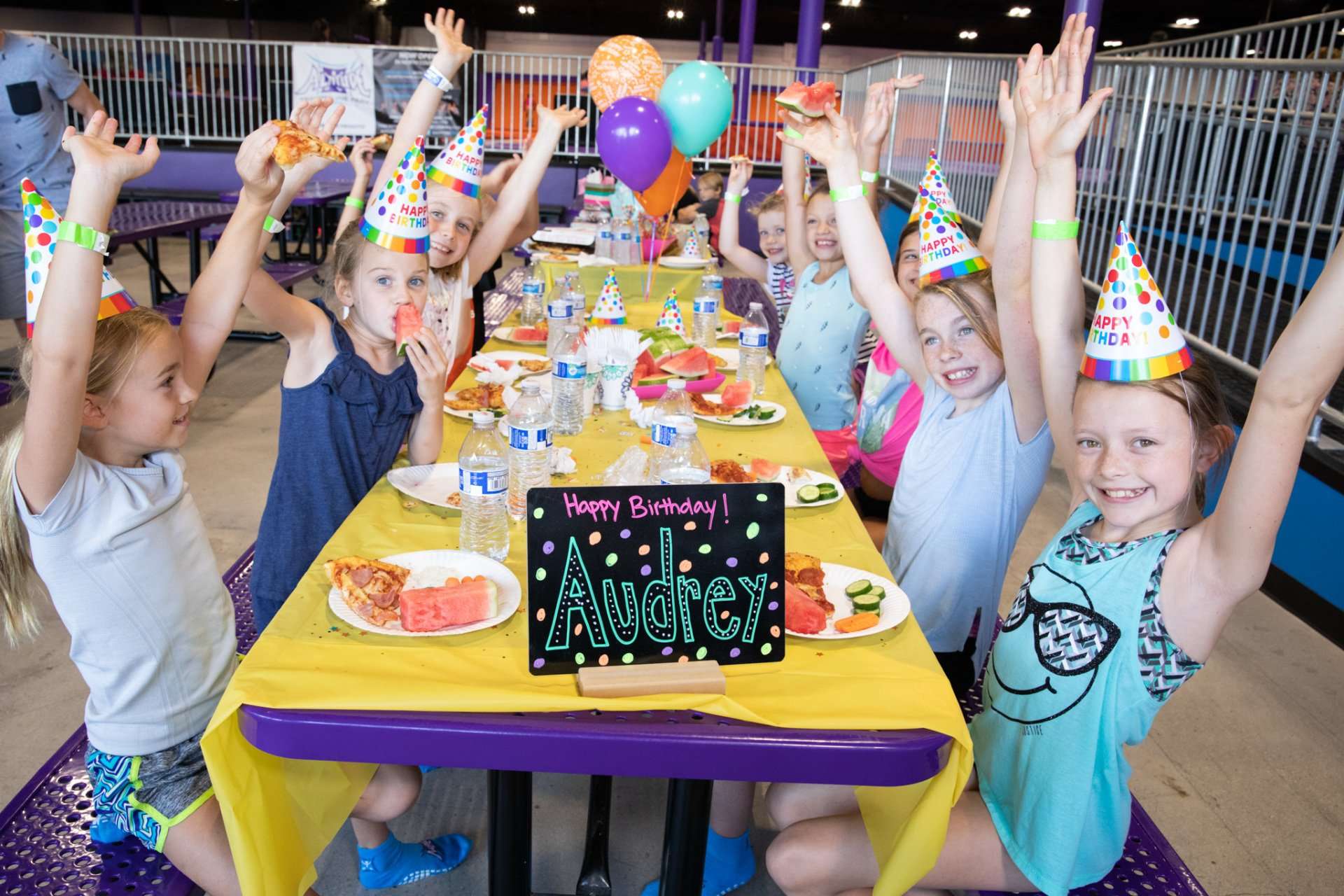 Early risers, beat the crowd and start your special day celebrating! Here at Altitude Delmar, we'll take your birthday party to new heights with this amazing discounted package! Unlike other kids' birthday party places, we handle everything. From setup and hosting to entertainment and cleanup, we do the work so all you have to do is show up and have fun. Being held during Junior Jump Times, this birthday party package is also perfect for toddlers and junior jumpers!
Altitude Early Bird Birthday Parties include everything from the Classic Birthday Party PLUS one free parent with every jumper under the age of 2.
GLOW Birthday Party
Available Friday and Saturday from 7:00 PM – 10 PM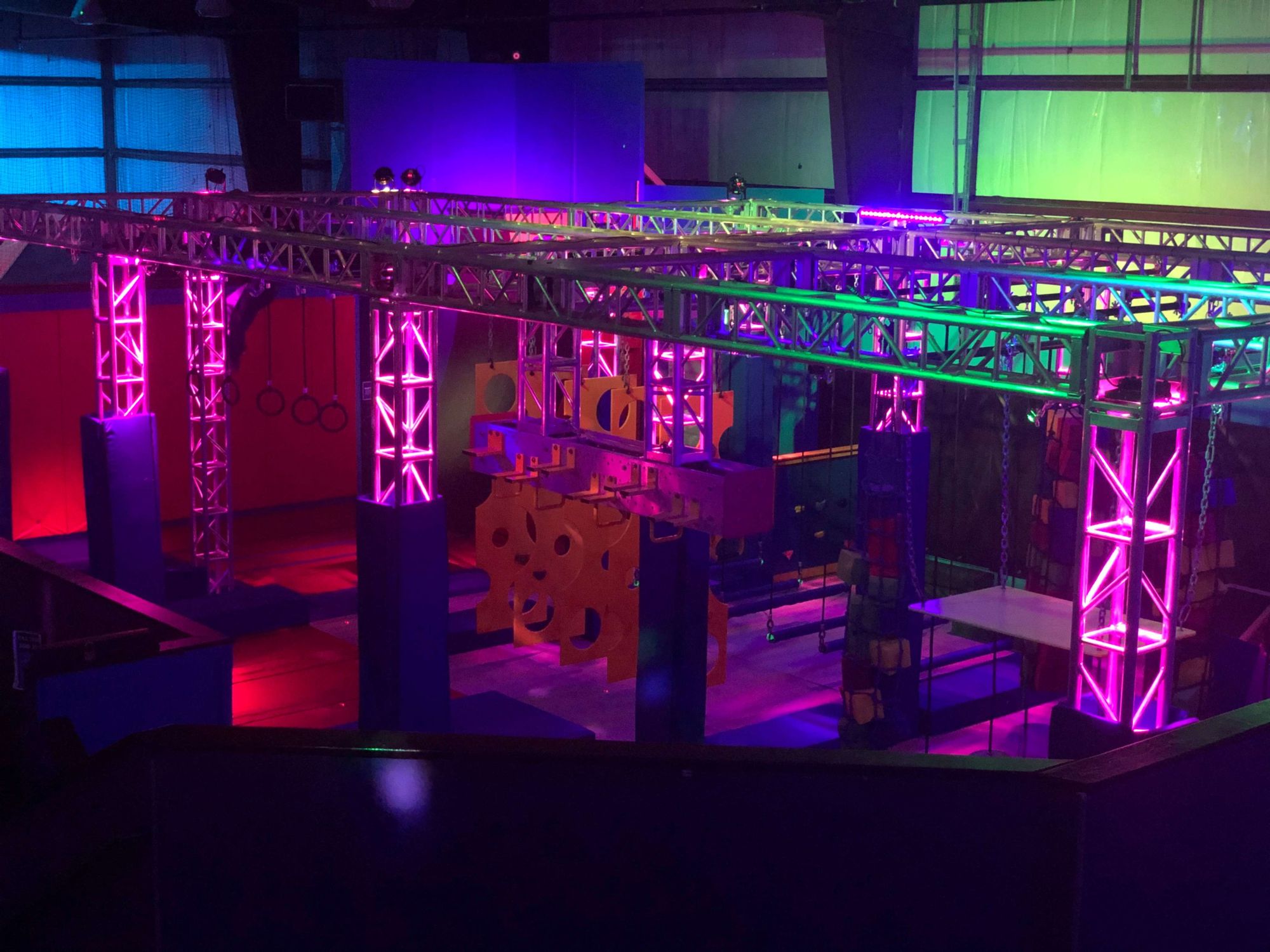 Celebrate your birthday under the blacklights with a GLOW party at Altitude Delmar. Your guest will get exclusive access to our blacklight GLOW party where they can jump to beat of the music under the dancing lights. It's an unforgettable time for your birthday boy or girl and all their friends! These parties are offered exclusively on Friday and Saturday nights. They often sell out weeks in advance, so book your party online today.
Altitude GLOW Parties include everything from the regular party PLUS an exclusive opportunity to run through the colorfully illuminated Ninja Warrior Course!
Pricing:
Glow Party
Early Bird
Jumpers
Open Party
Private Room
Upper Deck
Sun-Thur 10:30am - 12:30pm
Fri-Sat 9:30 am - 11:30 am
7 Jumpers
--
--
--
149.99
169.99
10 Jumpers
269.99
289.99
--
169.99
209.99
15 Jumpers
369.99
389.99
449.99
269.99
309.99
20 Jumpers
459.99
489.99
509.99
359.99
399.99
30 Jumpers
--
--
679.99
--
--
Classic Parties:
Open Room
Private Room
Upper Deck
Jumpers
Weekday
Weekend
Weekday
Weekend
Weekday
Weekend
7 Jumpers
169.99
189.99
--
--
--
--
10 Jumpers
209.99
249.99
229.99
269.99
--
--
15 Jumpers
309.99
349.99
329.99
369.99
379.99
429.99
20 Jumpers
399.99
439.99
419.99
469.99
459.99
489.99
30 Jumpers
--
--
--
--
549.99
659.99